Clip-In Hair Extensions
Loose Curly Light Brown Clip-In Hair Extensions
Add to cart
Enhance Your Hairstyle with Clip-In Hair Extensions: A Complete Guide
Are you ready to unlock a world of endless hairstyle possibilities? Welcome to the realm of clip-in hair extensions at Apohair! Whether you're looking to add volume, length, or a touch of flair to your hair, our exquisite range of clip-in extensions is here to make your dreams a reality.
In the following sections, we'll take you on a journey through our product portfolio, showcasing the remarkable variety of clip-in extensions we have to offer. Whether you're new to the clip-in world or a seasoned pro, you're about to discover a world of beauty that's limited only by your imagination.
So, let's dive into the world of Apohair's hair extensions, where each clip is a step towards self-expression, confidence, and the hair you've always envisioned. Transforming your hair has never been easier, more exciting, or as enchanting as it is with clip-in extensions from Apohair. Get ready to revolutionize your hairstyle game, one clip at a time.
Overview of the Clip-In Hair Extension Portfolio
Are you looking to transform your hairstyle instantly? Clip-in extensions are your answer! At Apohair, we offer a diverse range of clip-in extensions that cater to different textures, styles, and colors. Whether you're seeking voluminous straight locks, bouncy curls, or elegant waves, our collection has something for everyone.
Who Should Use Clip in Extensions?
Clip-in extensions are suitable for a wide range of individuals who want to enhance their hair in a temporary and versatile manner. They are particularly beneficial for:
Occasional stylists: If you enjoy experimenting with different hairstyles for special occasions, clip-in hair offer a convenient solution for adding length, volume, or highlights.
Growing out a haircut: clip-in hair can help you seamlessly blend the transition as you grow out a short haircut, adding length and volume along the way.
Special events or photoshoots: Whether it's a wedding, prom, or professional photoshoot, clip-in extensions can instantly elevate your look, creating a glamorous and camera-ready hairstyle.
Hair color experiments: Clip-ins allow you to try out different hair colors without the commitment of permanent dye, making them ideal for those who love to experiment with different shades.
Name Some Products of Clip-In Hair Extensions
Explore our extensive clip-in hair extension selection, including:
Straight Clip-Ins
Achieve sleek and sophisticated looks with our straight clip-in extensions. Available in various lengths and shades, these extensions seamlessly blend with your natural hair, giving you a flawless finish.
Curly Clip-Ins
Add a touch of playful elegance with our curly clip-in extensions. From loose curls to tight coils, our range allows you to experiment with different curl patterns and find the perfect match for your style.
Wavy Clip-Ins
Enhance your natural waves or create waves where there were none with our wavy clip-in extensions. These extensions provide effortless beachy vibes for a chic appearance.
Diverse Color Options
When it comes to expressing your unique style and personality, color plays a pivotal role. At Apohair, we understand that your hair color is a canvas for your creativity. That's why our clip-in extensions come in a kaleidoscope of shades, ensuring you find the perfect hue to match your natural hair or make a bold statement.
Natural Shades: For those seeking a seamless blend with their natural hair, our collection offers a range of natural shades. From classic blacks and browns to subtle blondes, these extensions effortlessly merge with your hair, giving you a subtle enhancement that feels as authentic as it looks.
Vibrant Tones: Are you in the mood to stand out from the crowd? Our vibrant tones are designed to add a pop of color to your hair, allowing you to experiment with bold and brilliant hues. From vivid reds to electrifying blues, these extensions are a fantastic way to showcase your daring spirit.
Ombre and Balayage: Elevate your look with ombre and balayage clip-in hair extensions, offering a gradient effect that seamlessly transitions from one shade to another. These extensions create a multi-dimensional appearance that adds depth and dimension to your hairstyle.
Highlights and Lowlights: Embrace the art of contrast with our highlights and lowlights extensions. These options provide a sun-kissed effect, illuminating your hair with strategically placed lighter or darker shades that mimic the play of natural light.
Fantasy Colors: Unleash your inner artist with our fantasy colors range. From pastel pinks to mermaid blues, these extensions cater to those who want to explore a world of whimsical and imaginative styles.
With our diverse color options, mixing and matching becomes a creative adventure. Whether you're aiming for a harmonious blend, a dramatic contrast, or an avant-garde masterpiece, our clip-in extensions empower you to express your individuality.
Quotation: Elevate Your Hairstyle Instantly
Clip-in hair extensions are the ultimate secret weapon to achieving your dream hairstyle in an instant. With Apohair's remarkable collection of Double Drawn Hair (A++) clip-ins, you can elevate your look with the finest quality extensions. Crafted to perfection, our extensions offer a blend of luxury and affordability that enhances your hair game without compromise.
Our Double Drawn Hair (A++) clip-in extensions are meticulously designed to provide a seamless, voluminous, and natural appearance. We understand that every inch counts when it comes to achieving the perfect length and style. That's why our clip-ins come in an array of lengths and prices that cater to your preferences:
| | |
| --- | --- |
| Inch | Average Cost |
| 06-inch | $23.1 |
| 08-inch | $29.4 |
| 10-inch | $33.7 |
| 12-inch | $39.1 |
| 14-inch | $45.4 |
| 16-inch | $55.0 |
| 18-inch | $66.6 |
| 20-inch | $77.3 |
| 22-inch | $90.7 |
| 24-inch | $102.1 |
| 26-inch | $108.5 |
| 28-inch | $117.0 |
Each extension is a testament to our commitment to providing you with the highest quality. Our Double Drawn Hair (A++) ensures that every strand is uniform in length, resulting in voluminous and thick extensions that blend seamlessly with your natural hair.
Explore our collection and embark on a journey to flawless, beautiful hair with Apohair's Double Drawn Hair (A++) clip-in extensions. Your hair transformation begins here!
Do Clip-in Hair Extensions Damage Your Hair?
Clip-in extensions are generally considered to be one of the least damaging methods of hair extensions when compared to more permanent options like tape-in, sew-in, or bonded extensions. However, whether clip-ins damage your hair depends on how they are applied, how well they are maintained, and how frequently you wear them.
Properly applied and maintained clip-in extensions are unlikely to cause significant damage to your natural hair. Here are some reasons why clip-in extensions are considered less damaging:
Temporary Attachment: Clip-in extensions are designed to be temporary. You attach them yourself and can remove them at the end of the day or whenever you choose. This means that there is no long-term strain on your natural hair.
No Chemicals or Heat: Unlike other methods that involve bonding or heat application, clip-ins do not require any chemicals or heat for attachment. This minimizes the risk of damage to your natural hair.
Easy Removal: You can easily remove clip-in extensions before sleeping or engaging in activities that might put stress on your hair. This reduces the likelihood of tangling, breakage, or damage.
Proper Installation: Correctly applying clip-in extensions involves avoiding pulling or tugging on your natural hair. Proper placement and gentle handling minimize stress on your hair strands.
Regular Care: Good maintenance practices, such as detangling before and after wearing clip-ins, using gentle hair care products, and giving your natural hair breaks between extension use, contribute to minimizing any potential damage.
How to Put and Remove Clip-In Hair Extensions
How to Put Clip-Ins
Section Your Hair: Divide your hair into sections where you want to place the extensions.
Open the Clips: Open the clips on the extensions and position them close to the roots of your natural hair.
Secure the Clips: Snap the clips shut, ensuring a firm grip that feels comfortable.
Blend and Style: Gently comb your natural hair and the extensions for a seamless blend. Style as desired.
To know specific steps of How To Put Clip-ins, let's visit our blog to learn on. We provide many themes besides.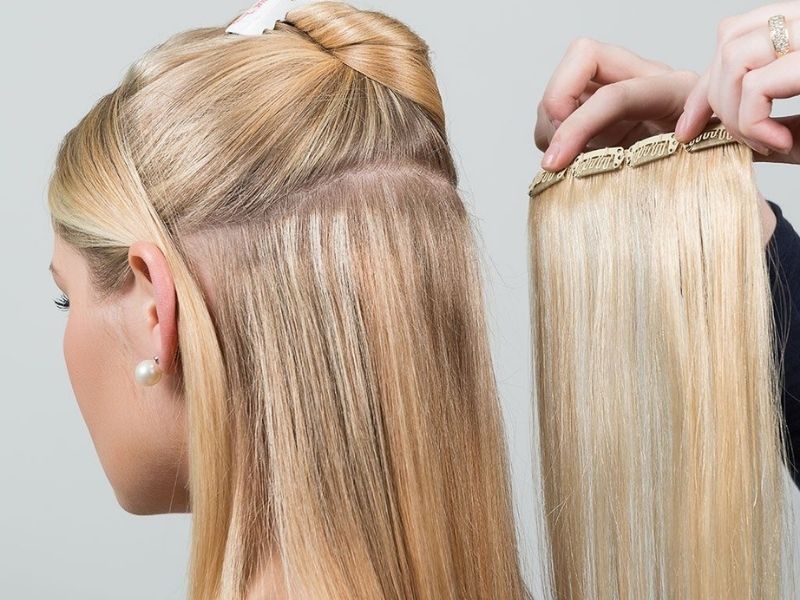 How to Remove Clip-Ins
Locate the Clips: Find the clips securing the extensions.
Open the Clips: Carefully open the clips to release the extensions from your natural hair.
Gently Remove: Hold the extension at the base and slide it out gently to avoid any tugging.
Store Properly: Store your clip-ins in a safe place to maintain their quality for future use.
Above is easy, if you want to know detail of How To Remove Clip-in Hair, let's visit our blog.
Clip-in hair offer a hassle-free way to transform your hairstyle, whether for daily wear or special occasions. With the right application and care, you can enjoy a stunning look that's easy to achieve and maintain.
At Apohair, we're committed to providing you with high-quality clip-in s that elevate your style and confidence. Explore our collection today and discover the beauty of instant hair transformation!
Where You Should Go To Buy Clip-in Extensions?
When it comes to purchasing clip in extensions, it's essential to choose a reputable and trusted supplier to ensure the quality and authenticity of the product. One such reliable company is Apohair, a leading manufacturer and supplier of high-quality hair extensions. Here's why Apohair is an excellent choice for purchasing clip-ins:
Largest Factory in Vietnam: Apohair operates the largest hair factory in Vietnam, equipped with state-of-the-art facilities and a skilled team of experts. With our extensive experience and commitment to quality, you can trust that you're getting top-notch clip-ins.
Wide Range of Options: Apohair offers a diverse selection of clip in hair extensions, including various lengths, colors, and textures. Whether you prefer straight, wavy, or curly hair, Apohair has options to cater to your specific style preferences.
Customizable Designs: One of the standout features of Apohair is our ability to customize clip-in extensions according to your requirements. Whether you need a specific the number of pieces for each set, our team can create bespoke clip-in hair to match your desired look.
High-Quality Hair: Apohair takes pride in providing extensions made from ethically sourced, 100% human hair. This ensures a natural look and feel, as well as durability and longevity. The hair is carefully cared for and undergoes strict quality control processes to deliver exceptional products.
Reliable Customer Service: Apohair values customer satisfaction and provides excellent customer service. Our team is available 24/7 to assist you with any inquiries, guide you in choosing the right clip-in hair, and offer advice on maintenance and styling.
To explore Apohair's range of clip-in extensions and make a purchase, visit our official website. With Apohair's commitment to quality, extensive options, and excellent customer service, you can confidently enhance your hair with our premium clip-in extensions.
Conclusion
Upgrade your hair game with Apohair's diverse range of clip-in hair extensions. From straight to curly and wavy textures, we have the perfect match for your desired look. Follow our simple guide to apply and remove clip-ins seamlessly, allowing you to experiment with new styles effortlessly. Elevate your hairstyle game with the magic of clip-in extensions from Apohair!