Hairstyles for 24-inch Straight Weaves
If you're possessing a long straight lock, well, you should be proud. Long straight hair can bring us endless fun experimenting with all types of hairdos. Straight hairstyles have a wide range of versatilities which allow women to wear them most beautifully. So what are you waiting for not to stand up and go get yourself a set of long straight hair extensions and join us to find out some coolest hair ideas, in this article, for the 24-inch straight weaves.
24-inch Straight Weaves
The 24-inch weave is considered a super long hairstyle that gives us the chance to try styles only imaginable in the movies, extra long, extra thick, and of course, extra stunning. The hairstyle can not only flattering on all shapes of faces but also gives off a youthful and energetic vibe. As the 24-inch straight hair can reach the chin or longer or sometimes shoulder-length hair, it's considered a perfect compromise for any girl.
It's safe to say that straight hair works perfectly with long hairdos. It can not only add length to your lock, the 24-inch straight weave also offers a fuller, thicker-looking hair without creating fusses. This is not to mention this down-to-bottom-length weave, despite its might be taking time to care for, is actually quite low in maintenance. For that reason, the hair can suit both beginners and those who are experienced in using hair extensions.
Hairstyles for the 24-inch Straight Weaves
#1 Half-up French Braid
The French braid hairstyles have always been a surefire way to show off your femininity. If you're looking for a chic yet effortless hairdo, this half-up style might be your match made in heaven. The process is quite the same as with the normal French braids we had but stopped halfway through. The rest of your hair will be left cascaded.
#2 Messy Textured Bun
The textured buns are always perfect for a soft look. All you want to do is pulling your hair back into a messy bun and pulling out some extra pieces to frame your face lines. And you know what would make it even more flawless? A flower crown on top or any other types of hair accessories would make your lock a red-carpet-worthy hairstyle.
#3 Slick Ponytail
The ponytail was huge a trend this year, and, seemingly, there has been not yet a sign of it getting out of the map up to this moment. It is a super-easy way to create a classic look. Obviously, the ponytails can make any outfit you wear look good. To get the look, you may want to blow-dry your hair and simply pull it back and secure with an elastic tie. And don't forget to tassel with the texture spray for extra volumes and movements.
The three above are just some hairstyles for the 24-inch straight weaves to name. Basically, you can go for any hairstyle with a long straight lock. So don't be hesitate and opt for your favorite hairdo right now.
SEE MORE: Natural hair clip ins
SEE MORE: Cheap clip in hair extensions
SEE MORE: Short human hair extensions
SEE MORE: 10 piece clip in hair extensions
SEE MORE: Clip in human hair extensions ombre 
APO Hair's 24-inch Straight Weaves
At APO Hair, we sell 100% Vietnamese Remy Human Hair 24-inch straight weaves in packages – 100 grams each. Apart from weaves, our 24-inch hairs are also available in bulks. While weave hair is to be sewn into your natural one, bulk hair is fixed with tight hair elastics.
Coming to APO Hair's weaves, we can guarantee that our hair:
Perfectly blends in your natural lock without causing irritation.
Works well with shorter customers (can reach their collarbones or even below).
Adds extra volumes and movements to shoulder-length hair.
Adds subtle length for daily hairstyles.
Double drawn for thick and healthy tips.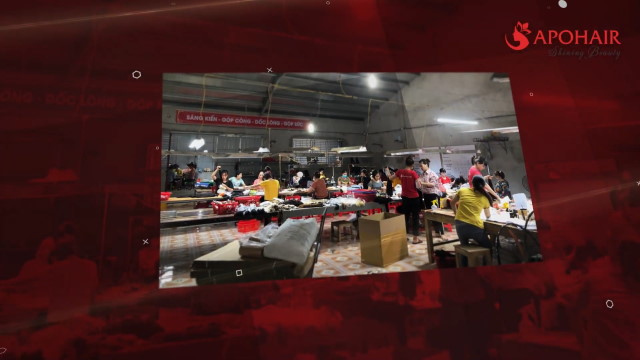 There're several hair standards required in APO Hair that can give you complete satisfaction when choosing APO Hair's extensions.
# Single drawn: You can actually find a single drawn set of hair extensions as they're usually sold at a rather low price. However, a piece of single drawn extensions can contain different length hair as they are not as carefully done as the other two.
# Double drawn: This one is of our company priority as compared to the previous choice, single drawn extensions are not only thicker but also fair in terms of length distribution.
# Super double drawn (Double-drawn type 2): Nearly 100% of the strands in super double drawn extensions are at the same length, which contributes to the ultimate boost of volume to your original lock. The fact that the super double drawn hair's quality, as compared to the other types, is superior, this type of hair extensions can be costly depending on how long the hair you want to buy is.
APO Hair is now having 4 main standards for hair: Single Drawn Type 1&2, and Double Drawn Type 1&2, which have quite the same features as the 3 standards above.
APO Hair's 24-inch straight weaves come in the same standards as stated above.
There are now 12 main textures of the 24-inch extensions available at APO Hair – Straight, Kinky Straight, Yaki Straight, Natural Wavy, Body Wavy, Deep Wavy, Water Body Wavy, Deep Curly, Fumi Curly, Kinky Curly, Loose Curly, and Romantic Curly – which are classified into 3 categories: straight, wavy, and curly.
Make sure to share your stories and your opinion on the article. We hope to stumble across your comment and be able to hear your honest thoughts soon.