Hairstyles for 28-inch Straight Weaves
Straight hair has been considered alluring and elegant since the dawn of this hairstyle, and it is safe to say that a long straight cut will always win the heart of many women no matter what styling method they go for. So what are the most popular hairstyles for the 28-inch straight weaves among the hair community? Let's find out in this article.
28-inch Straight Weaves
With just a few inches longer than the 26-inch extensions, 28-inch straight weaves can provide us a whole different look that is extra-long, lustrous, and voluminous. Not only adding length to your lock, the 28-inch straight weave also offers a fuller, thicker-looking hair without creating fusses.
Having said that, the 28-inch straight weaves, since it's one of the longest hair lengths for extensions, requires efforts to maintain. Having said that, in this post, we're also giving you a list of what to do and what to avoid in your hair care routine. For the most basic tip, it is vital that you wash your hair extensions with sulfate or paraben-free shampoo, especially when it comes to purifying your roots. To silken your tresses as well as avoid shedding, do spend some time on investigation and perhaps, ask for the experts' advice on what products you should use on your hair.
Avoid exposing your hair to salt or chlorinated water unless you want your extensions to be adversely damaged. That's why knowing how to take care of your straight weaves before and after swimming in chlorine is also very important. It is quite simple that you only need to rinse the weaves with clean water before diving yourself in the pool as it will soak up far less chlorine. Also, don't let the chlorine remain on your lock overnight. Instead, rinse the chlorine out of your extensions right after swimming, then wash it with shampoo.
Once you have washed your hair, towel-dry them and brush them with a large-tooth comb. One more thing to take note, avoid leaving your head wet when you go to sleep. Maybe you should put your hair into braids or pigtails when it dry.
Hairstyles for 28-inch Straight Weaves
#1 Braids
Braids are probably the first thing we could think of when it comes to hairstyles for the 28-inch straight weaves. Women hairstyles with braids are super classic. They can be either simple or intricate, and obviously, they work for anyone. When you go for a braided hairstyle, there are several hacks that can be of great help no matter what type of braid you do.
First of all, go with your strands on the 2nd day when braiding. In case you have just washed your hair, you may want to make it a bit "dirtier" with styling products. Typically, your tresses on the 2nd day are more prone to lay orderly while clean tresses are too slippery. Also, a braid done with "dirty" hair will last longer. Texturizing spray or dry shampoo will help you.
#2 Ponytail
The ponytail is, apparently, the trend of this year, and there has been not yet a sign of it getting out of the map up to this moment. It is a super-easy way to create a classic look. Besides, it is undeniable that the ponytails can make any outfit you wear look good. So, what to do with this hairstyle? To get the look, you may want to blow-dry your hair and simply pull it back and secure with an elastic tie. And don't forget to tassel with the texture spray for extra volumes and movements.
#3 Top Knot
A top knot for the long straight lock are hairstyles that can work for various occasions, from exorcizing in a gym to a party. And there are plenty of ways for you to rock a top knot. Depending on your preferences and the event ahead, you can go for a more polished variation or wear a messy top knot.
#4 Half-up
When talking about long hairstyles, it would be a huge mistake not mentioning the elegant half-up hairstyles. Basically, they can give you the best of both worlds: keep your hair away from your face and let you show off your beautiful long locks at the same time. What can be better?
Tips to Style 28-inch Straight Weaves
As we mentioned above, hair that hasn't been washed for a day is easier to style.
Use sharp scissors to trim the ends of your hair regularly to avoid hair splits.
For formal events, the best hairstyle is with your freshly brushed hair worn straight down your back.
It'd be useful to get yourself a shower cap. Put your hair in it when you condition it to keep the conditioner from washing out of the ends where you need it most.
Try to maintain a balance diet. Drink lots of water and get moderate exercise.
Consider oiling your hair if the ends are dry: smear a few drops of jojoba oil (or olive oil) between your hands and apply it to the length and ends of your hair, then comb through. Experiment to find the right amount — it shouldn't feel oily or stain your clothes when done correctly, but it will keep your hair shiny, silky, and healthy.
To redistribute oils in your hair, brush with a massive, natural boar bristle brush every day. Brush your hair from the tips and work its way up to your roots, then right-side up, about 20 strokes each. It feels good and it will make your hair shiny and healthy.
When you shampoo your hair, apply the shampoo to your scalp only (don't wash the ends). Last but not least, don't use hot water on your hair.
APO 28-inch Straight Weaves
At APO Hair, we sell 100% Vietnamese Remy Human Hair 28-inch straight weaves in packages – 100 grams each. Apart from weaves, our 28-inch hairs are also available in bulks. While weave hair is to be sewn into your natural one, bulk hair is fixed with tight hair elastics.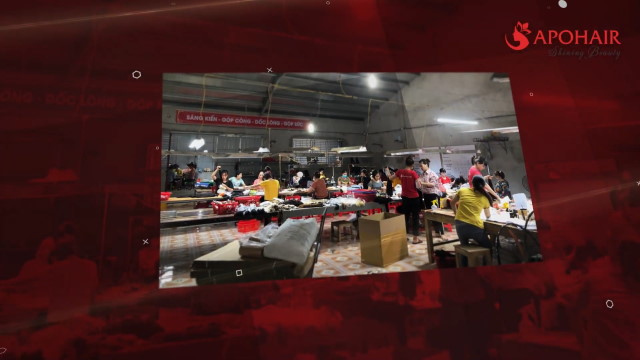 Coming to APO Hair's weaves, we can guarantee that our hair:
Perfectly blends in your natural lock without causing irritation.
Works well with shorter customers (can reach their collarbones or even below).
Adds extra volumes and movements to shoulder-length hair.
Adds subtle length for daily hairstyles.
Double drawn for thick and healthy tips.
There're several hair standards required in APO Hair that can give you complete satisfaction when choosing APO Hair's extensions.
# Single drawn: You can actually find a single drawn set of hair extensions as they're usually sold at a rather low price. However, a piece of single drawn extensions can contain different length hair as they are not as carefully done as the other two.
# Double drawn: This one is of our company priority as compared to the previous choice, single drawn extensions are not only thicker but also fair in terms of length distribution.
# Super double drawn (Double-drawn type 2): Nearly 100% of the strands in super double drawn extensions are at the same length, which contributes to the ultimate boost of volume to your original lock. The fact that the super double drawn hair's quality, as compared to the other types, is superior, this type of hair extensions can be costly depending on how long the hair you want to buy is.
APO Hair is now having 4 main standards for hair: Single Drawn Type 1&2, and Double Drawn Type 1&2, which have quite the same features as the 3 standards above.
APO Hair's 28-inch straight weaves come in the same standards as stated above.
There are now 12 main textures of the 28-inch extensions available at APO Hair – Straight, Kinky Straight, Yaki Straight, Natural Wavy, Body Wavy, Deep Wavy, Water Body Wavy, Deep Curly, Fumi Curly, Kinky Curly, Loose Curly, and Romantic Curly – which are classified into 3 categories: straight, wavy, and curly.
Make sure to share your stories and your opinion on the article. We hope to stumble across your comment and be able to hear your honest thoughts soon.