Achieve Effortless Elegance with Human Hair Wigs
In the world of beauty and self-expression, human hair wigs have emerged as a game-changer, offering endless possibilities to transform your look with ease and style. Apohair, a trailblazing brand in the hair extensions industry, takes the spotlight with their exquisite collection of human wigs. In this comprehensive guide, we delve into the artistry and versatility of Apohair's human wigs, specifically focusing on the top-notch categories: Lace Closure Wigs, Lace Frontal Wigs, Full Lace Wigs, and U-part Wigs. Let's explore how these wigs can redefine your hair game while providing unmatched authenticity and elegance.
What precisely are human hair wigs?
Human wigs are wigs created from real human hair that has been meticulously harvested and treated to provide natural-looking and flexible hairpieces. These wigs have a realistic appearance, texture, and movement that is similar to that of genuine hair. Human wigs are frequently selected due to their authenticity, durability, and ability to be styled, colored, and treated in the same way as one's own hair.
They are available in a variety of styles, lengths, colors, and textures, allowing users to obtain a variety of outfits, whether for everyday or special occasions. Human hair extensions are handcrafted with exquisite hand-tying of individual hair strands to a lace base, ensuring a flawless mix with the scalp and a comfortable fit.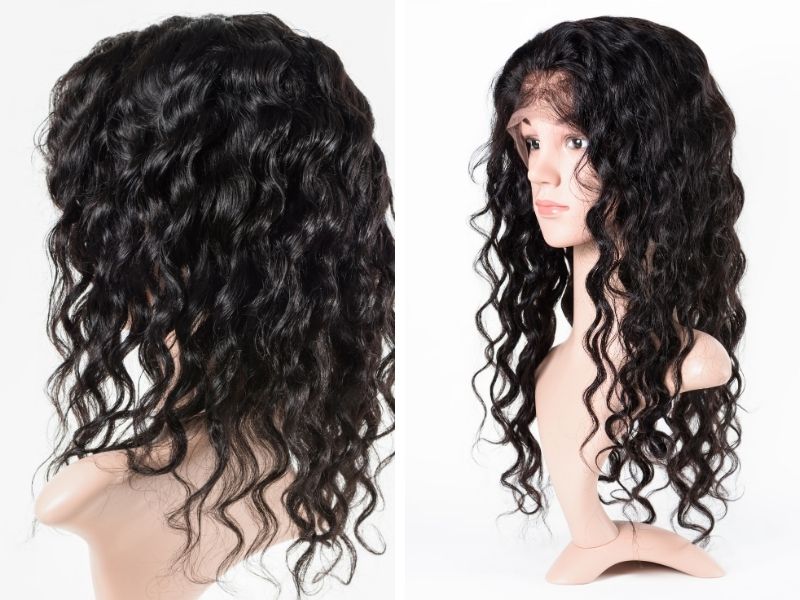 Stunning features of human wigs of Apohair
Apohair's human wigs are a testament to flawless craftsmanship and consistent quality. Apohair, with an uncompromising commitment to excellence, provides a collection of human hair wigs that redefine beauty and authenticity. Each strand of hair is painstakingly hand-ventilated onto a lace base, resulting in a natural flow, texture, and movement that is practically indistinguishable from genuine hair.
The attention to detail extends to the hairline, where lace closures and lace frontals blend flawlessly with your natural hairline, adding a touch of refinement to your look.  Apohair's human wigs encourage you to embrace your personality, style, and confidence, whether you choose the versatility of Full Lace Wigs or the integration of U-part Wigs. With Apohair's stunning human wigs, you may enter a world where sophistication meets innovation and feel the allure of genuine beauty.
You may like: How Much is A Human Hair Wig? Guide to Prices and Purchasing
Apohair's human wigs: What's special?
Lace Closure Wigs: Enhancing Realism and Versatility
Lace Closure Wigs are a testament to the innovation and craftsmanship behind Apohair's offerings. With size 5×5 and various lengths ranging from 10 inches to 30 inches, these wigs are designed with a small piece of lace that mimics the appearance of your natural scalp, allowing for a seamless blend with your hairline. The result? A natural look that's virtually indistinguishable from your own hair.
Apohair's Lace Closure Wigs offer unparalleled versatility. Whether you're aiming for a middle part, side part, or even a dramatic swoop, these wigs can effortlessly accommodate any style. The intricate hand-tying of individual hair strands to the lace base ensures that the wig appears as if the hair is growing directly from your scalp. With Apohair's commitment to quality, these wigs offer a long-lasting solution that doesn't compromise on comfort or appearance.
Lace Frontal Wigs: Embrace the Art of Flawless Hairlines
When mentioning human hair wigs, Lace Frontal Wigs are a go-to choice for those seeking to redefine their hairline and create a seamless, natural look. Apohair's Lace Frontal Wigs offer an ear-to-ear stretch of lace that covers the entire front hairline. With 2 sizes are 13×4 and 13×6 and diverse lengths from 10 inches to 28 inches, this enables wearers to experiment with various hairstyles, including those pulled back from the face, without revealing any telltale signs of wearing a wig.
What sets Apohair's Lace Frontal Wigs apart is the attention to detail and quality. The hand-ventilated hair strands ensure that the wig boasts natural movement and flow, while the meticulously designed lace ensures a comfortable fit. These wigs are an investment in confidence, allowing you to strut your stuff with a hairline that's the envy of all.
Full Lace Wigs: Unleash Your Inner Diva
For those who desire ultimate flexibility in hairstyling, Apohair's Full Lace Wigs are the pinnacle of sophistication. Apohair offers three typical sizes S, M, L with lengths from 10 inches to 28 inches. These wigs are handcrafted with a lace base that covers the entire scalp, enabling wearers to part their hair anywhere for a breathtakingly natural look. Whether you're dreaming of cascading curls, sleek straight locks, or an intricate updo, these wigs can make your vision a reality.
Apohair's Full Lace Wigs are a fusion of artistry and technology. Each strand of hair is painstakingly attached to the lace base, allowing for the most realistic movement and texture. With proper care, these wigs can last for an extended period, making them a true investment in glamour and grace.
U-part Wigs: Seamlessly Integrate with Your Natural Hair
U-part Wigs are the embodiment of ingenuity, offering a solution that seamlessly blends your natural hair with the wig for an undetectable finish. Apohair comes in three standard sizes: S, M, and L, with lengths ranging from 10 to 28 inches.
Apohair's U-part Wigs feature a "U" shaped opening that allows you to leave out a small section of your natural hair, creating a flawless integration.
These wigs are perfect for those who crave the flexibility of styling their natural hair while enjoying the added volume and length that a wig provides. Apohair's U-part Wigs are designed with precision and care, ensuring that the texture and appearance perfectly match your natural locks.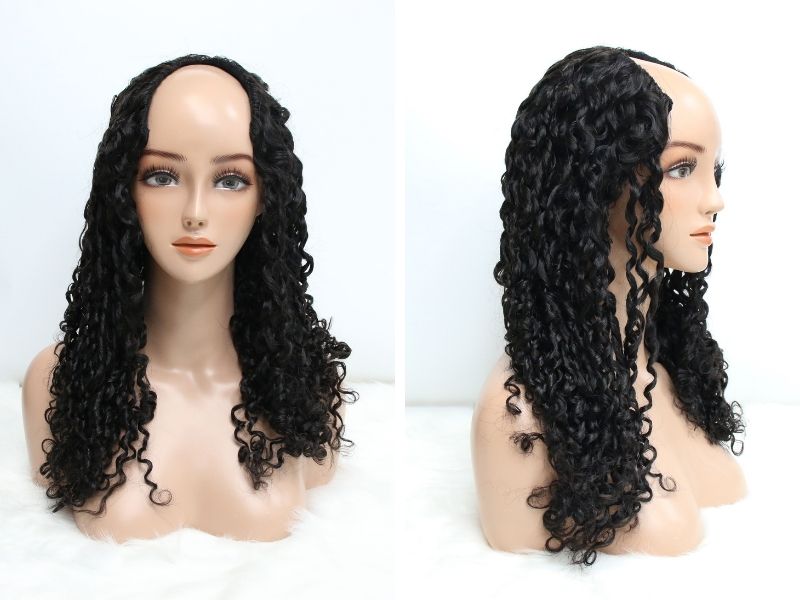 Read more: The Ultimade Guide to Different Types Of Human Hair Wigs
How to put in and remove human hair wigs
Putting In a Human Hair Wig:
Prepare Your Hair: Before putting on the wig, make sure your natural hair is flat against your scalp. You can use a wig cap to help secure your hair and create a smooth surface.
Adjust the Cap: Place the wig cap over your head, ensuring it's snug and secure. Adjust the cap so that it sits just above your natural hairline.
Position the Wig: Hold the wig by the sides with the label at the back. Tilt your head forward and position the front of the wig above your eyebrows. Gently place the front of the wig onto your forehead and slide it back over your head.
Adjust the Fit: Secure the wig by adjusting the straps or hooks inside the cap. Make sure the wig feels comfortable and snug. Use bobby pins if needed to further secure the wig's edges.
Style: Once the wig is in place, you can style it as desired using heat styling tools, brushes, or combs. Take care to avoid excessive heat, especially near the wig's roots.
Removing a Human Hair Wigs:
Prepare: Before removing the wig, make sure it's untangled and styled as desired.
Unfasten: If the wig has adjustable straps or hooks, carefully unfasten them to loosen the wig.
Gently Lift: With one hand on the front of the wig and the other hand supporting the back, gently lift the wig away from your head. Use your fingers to gently loosen any adhesive around the edges if necessary.
Store Properly: Once the wig is removed, store it on a wig stand or in its original packaging to maintain its shape and prevent tangling. Avoid direct sunlight and extreme heat.
Care for Your Natural Hair: After removing the wig, take a moment to care for your natural hair and scalp. Massage your scalp to stimulate blood flow and use nourishing products to keep your hair healthy.
Remember that the process may vary slightly based on the type of wig (lace closure, lace frontal, full lace, etc.) and the adhesive method used. Always follow any specific instructions provided by the wig manufacturer to ensure proper application and removal.
Conclusion
In the realm of human hair wigs, Apohair stands as a beacon of excellence, offering an array of options that cater to every style and preference. Whether you're a fan of Lace Closure Wigs, Lace Frontal Wigs, Full Lace Wigs, or U-part Wigs, Apohair's commitment to quality, realism, and versatility shines through. By choosing Apohair, you're not just selecting a wig – you're embracing a transformative experience that empowers you to express your true self with grace and confidence. Upgrade your hair game with Apohair's human wigs and step into a world of limitless beauty possibilities!