Achieve Effortless Elegance with Human Hair Wigs
In the world of beauty and self-expression, human hair wigs have emerged as a game-changer, offering endless possibilities to transform your look with ease and style. Apohair, a trailblazing brand in the hair industry, takes the spotlight with their exquisite collection of human wigs.
In this comprehensive guide, we delve into the artistry and versatility of Apohair's human wigs, specifically focusing on the top-notch categories: Lace Closure Wigs, Lace Frontal Wigs, Full Lace Wigs, and U-part Wigs. Let's explore how these wigs can redefine your hair game while providing unmatched authenticity and elegance.
What Precisely Are Human Hair Wigs?
Human wigs are wigs created from real human hair that has been meticulously harvested and treated to provide natural-looking and flexible hairpieces. These wigs have a realistic appearance, texture, and movement that is similar to that of genuine hair. Human wigs are frequently selected due to their authenticity, durability, and ability to be styled, colored, and treated in the same way as one's own hair.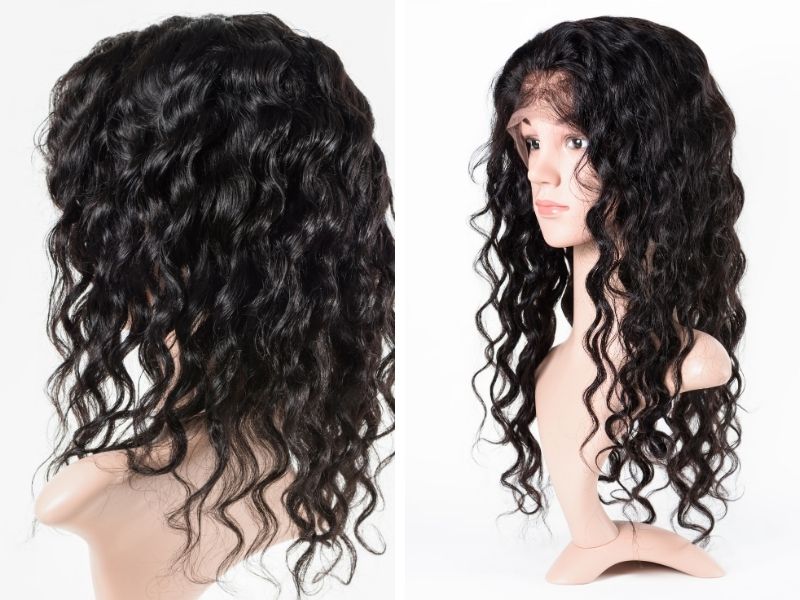 They are available in a variety of styles, lengths, colors, and textures, allowing users to obtain a variety of outfits, whether for everyday or special occasions. Human wigs are handcrafted with exquisite hand-tying of individual hair strands to a lace base, ensuring a flawless mix with the scalp and a comfortable fit.
Stunning Features Of Human Wigs Of Apohair
Apohair's human wigs are a testament to flawless craftsmanship and consistent quality. Apohair, with an uncompromising commitment to excellence, provides a collection of human hair wigs that redefine beauty and authenticity. Each strand of hair is painstakingly hand-ventilated onto a lace base, resulting in a natural flow, texture, and movement that is practically indistinguishable from genuine hair.
The attention to detail extends to the hairline, where lace closures and lace frontals blend flawlessly with your natural hairline, adding a touch of refinement to your look.  Apohair's human wigs encourage you to embrace your personality, style, and confidence, whether you choose the versatility of Full Lace Wigs or the integration of U-part Wigs. With Apohair's stunning human wigs, you may enter a world where sophistication meets innovation and feel the allure of genuine beauty.
Benefits Of Choosing Human Wigs Over Synthetic Wigs
– Natural Look and Feel: Human hair wigs mix in flawlessly with your natural hair, giving you a genuine and unnoticeable appearance.
– Styling Options: Human hair wigs can be styled just like your own hair, from straight and sleek to wavy and voluminous.
– Durability and Longevity: Human hair wigs can last longer than synthetic wigs if properly cared for and maintained.
– Heat Resistance for Tool Styling: To obtain the desired look, you can safely use heated styling equipment on human hair wigs.
– Simple to maintain and care for: Human hair wigs require little maintenance and can be handled just like your real hair.
Elevate Your Style With Apohair's Versatile Hair Wig Collection
Frontal Lace Closure
– Lace Closure: A hairpiece with a little piece of lace affixed to the wig's crown or front. It creates a natural-looking hairline and is ideal for producing a smooth finish at the crown of your head. Prices start at $20-$25.
– Lace Frontal: A wider piece of lace goes from ear to ear on this hairpiece, allowing for varied parting and styling possibilities. Lace frontals create a more complete and natural-looking hairline, making them great for a variety of hairstyles such as updos and ponytails. Prices start at $55-$70.
Human Hair Wigs
– Lace Closure Wigs: Lace closure wigs are human hair wigs with a realistic hairline at the crown and a natural appearance. Prices start at $75-$105
– Lace Frontal Wigs: These wigs have a lace frontal that extends from ear to ear, providing style options and a natural-looking hairline. Prices start at $80-$110
– Full Lace Wigs: Wigs with lace covering the entire cap, allowing you to part your hair wherever and style it in a variety of ways, making it practically indistinguishable from natural hair. Prices start at $137-$150
You may like: 360 Lace Wig vs Full Lace Wig 
– U-part Wigs: Wigs have a U-shaped opening at the top that allows you to blend in a bit of your natural hair, combining ease and style. Prices start at $137-$147
Apohair's diverse hair wig collection has something for everyone, whether you want a natural-looking hairline, the option to style your hair in different ways, or the comfort of protecting your natural hair with a U-part wig. Choose the ideal wig to confidently showcase your individual style and beauty. Furthermore, Apohair also ensure that our wigs can be dyed or bleached with a variety of colors without damaging hair or tangling and shedding.
Importance of Selecting the Right Wig Supplier
The significance of choosing the appropriate wig store cannot be stressed, as it has a big impact on your overall experience and pleasure with your hair wig purchase. Here are some important reasons why choosing the correct wig supplier, such as Apohair, is critical:
Quality Assurance
Reputable wig stores, such as Apohair, make certain that their items satisfy the highest quality requirements. They select their wigs from reputable vendors and provide premium-grade human hair wigs with exceptional craftsmanship. You can be confident that you are investing in a high-quality wig that appears natural, feels comfortable, and is constructed to last by shopping at a renowned store.
Wig Expert Advice and Consultation
The correct wig store hires wig experts who are skilled and experienced and can provide helpful advice and guidance. Whether you're new to wearing wigs or seeking for a certain style, their knowledge can assist you in finding the perfect wig that suits your face shape, accentuates your features, and matches your style choices.
Wide Selection
A respectable wig retailer carries a wide range of hair wigs in various designs, colors, lengths, and cap structures. This variety allows you to try on numerous wigs and choose one that fits your specific wants and desired look. Whether you want a lace closure wig, a lace frontal wig, a full lace wig, or a U-part wig, the appropriate store will have the perfect fit for you.
Personalized Service
Choosing the right wig store often means receiving personalized service that caters to your specific requirements. From professional wig consultations to helping you find the right fit and style, a reputable store prioritizes your satisfaction and ensures you have a pleasant shopping experience.
Transparent Information
A trustworthy wig store provides transparent information about their products, including details about hair type, texture, density, and care instructions. They are upfront about pricing and any customization options available, allowing you to make informed decisions about your purchase.
Customer Reviews and Testimonials
The right wig store values customer feedback and displays genuine reviews and testimonials from previous clients. Reading these reviews can offer insights into the quality of their products and services, giving you added confidence in your decision.
Return Policy and Warranty
Reputable wig stores often have customer-friendly return policies and warranties. This means that if you are not completely satisfied with your purchase or encounter any issues with your wig, you can have peace of mind knowing that you have options for resolution.
Factors To Consider Before Buying A Human Hair Wig
– Hair Type and Texture: To obtain a perfect blend, consider the hair type and texture that best fits your natural hair.
– Wig Cap Size and Construction: Make sure the wig cap size and construction provide a comfortable fit that stays securely on your head.
– Wig Length and Density: Select the wig length and density that best suit your face shape and personal style.
– Color Matching and Customization Options: Match the wig color to your natural hair or experiment with other shades for a new look.
– Considerations for the Budget: Determine your budget and look at solutions that are compatible with your financial goals.
– The Importance of Choosing the Right Wig company: Choose a reputable and trustworthy wig company, such as Apohair, which ensures high-quality wigs and great customer care.
Human Hair Wig Care And Maintenance Tips
There are several important factors to consider before buying a human hair wig. Taking the time to evaluate these factors will help you make an informed decision and ensure that you choose the perfect wig for your needs and preferences. Here are key factors to consider:
– Washing: Use a gentle shampoo formulated exclusively for human hair wigs. Massage the shampoo into the wig gently, then rinse with lukewarm water and wipe dry with a towel.
– Conditioning: Use a minimal bit hair conditioner to condition the wig while avoiding the roots. Allow it to sit for a few minutes before rinsing thoroughly.
– Drying: To keep your wig in shape, air dry it on a wig stand or mannequin head. To dry the wig, avoid using heat tools or direct sunshine.
– Brushing: Gently detangle the hair with a wide-tooth comb or wig brush, beginning at the ends and working your way up to the roots. Pulling or tugging on the hair is not recommended.
– Styling: Use heat tools on low heat settings to style your wig, but use heat protectant chemicals to prevent damage. To extend the life of the wig, avoid using excessive heat styling.
– Storage: Keep your wig clean and dry, preferably on a wig stand or in a wig box, out of direct sunlight, heat, and humidity.
– Maintenance:  Check the wig on a regular basis for any loose strands or damage. If necessary, trim the ends, and consider hiring a professional for more major repairs or restyling.
How To Put In And Remove Human Hair Wigs
1. Putting In A Human Hair Wig
– Prepare Your Hair: Before putting on the wig, make sure your natural hair is flat against your scalp. You can use a wig cap to help secure your hair and create a smooth surface.
– Adjust the Cap: Place the wig cap over your head, ensuring it's snug and secure. Adjust the cap so that it sits just above your natural hairline.
– Position the Wig: Hold the wig by the sides with the label at the back. Tilt your head forward and position the front of the wig above your eyebrows. Gently place the front of the wig onto your forehead and slide it back over your head.
– Adjust the Fit: Secure the wig by adjusting the straps or hooks inside the cap. Make sure the wig feels comfortable and snug. Use bobby pins if needed to further secure the wig's edges.
– Style: Once the wig is in place, you can style it as desired using heat styling tools, brushes, or combs. Take care to avoid excessive heat, especially near the wig's roots.
Related: How To Secure A Wig
2. Removing A Human Hair Wigs:
– Prepare: Before removing the wig, make sure it's untangled and styled as desired.
– Unfasten: If the wig has adjustable straps or hooks, carefully unfasten them to loosen the wig.
– Gently Lift: With one hand on the front of the wig and the other hand supporting the back, gently lift the wig away from your head. Use your fingers to gently loosen any adhesive around the edges if necessary.
– Store Properly: Once the wig is removed, store it on a wig stand or in its original packaging to maintain its shape and prevent tangling. Avoid direct sunlight and extreme heat.
– Care for Your Natural Hair: After removing the wig, take a moment to care for your natural hair and scalp. Massage your scalp to stimulate blood flow and use nourishing products to keep your hair healthy.
Remember that the process may vary slightly based on the type of wig (lace closure, lace frontal, full lace, etc.) and the adhesive method used. Always follow any specific instructions provided by the wig manufacturer to ensure proper application and removal.
Conclusion
In the realm of human hair wigs, Apohair stands as a beacon of excellence, offering an array of options that cater to every style and preference. Whether you're a fan of Lace Closure Wigs, Lace Frontal Wigs, Full Lace Wigs, or U-part Wigs, Apohair's commitment to quality, realism, and versatility shines through.
By choosing Apohair, you're not just selecting a wig – you're embracing a transformative experience that empowers you to express your true self with grace and confidence. Upgrade your hair game with Apohair's human wigs and step into a world of limitless beauty possibilities!