Double Layer Silky Flat Weft
Body Wavy Black Double Layer Silky Flat Weft
Add to cart
Unveiling Elegance with Apohair's Weft Hair Extensions
Welcome to the world of timeless beauty and transformation with Apohair's exclusive weft hair extensions collection. In this comprehensive blog, we invite you to discover the artistry and elegance of weft hair extensions – a portal to instant length, volume, and graceful allure.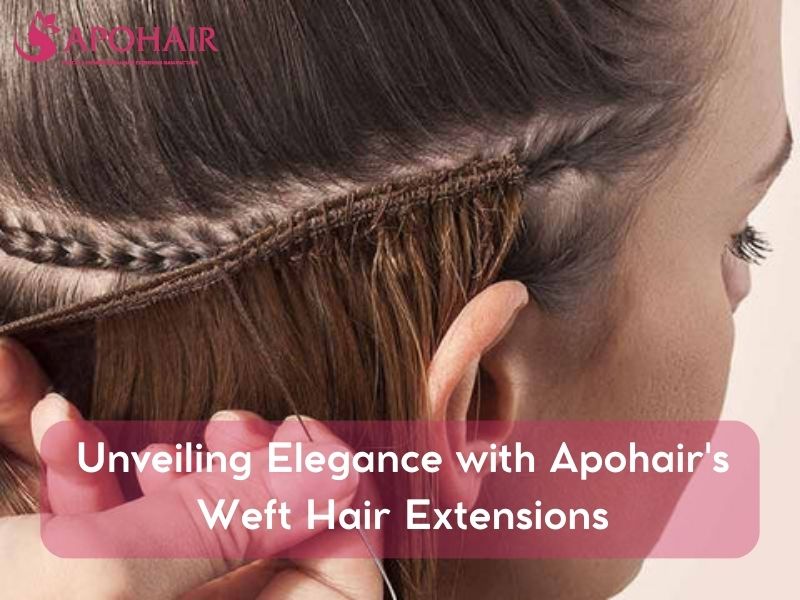 From understanding texture choices to mastering the application and removal processes, let's embark on a journey that unveils the secrets behind Apohair's dedication to enhancing your natural elegance.
What Exactly Are Weft Hair Extensions?
Weft hair or sew-in are a popular approach to enhance the length, volume, and adaptability of your natural hair. Unlike other types of hair extensions, weft extensions are created by sewing or gluing hair strands together at the top to create a continuous track.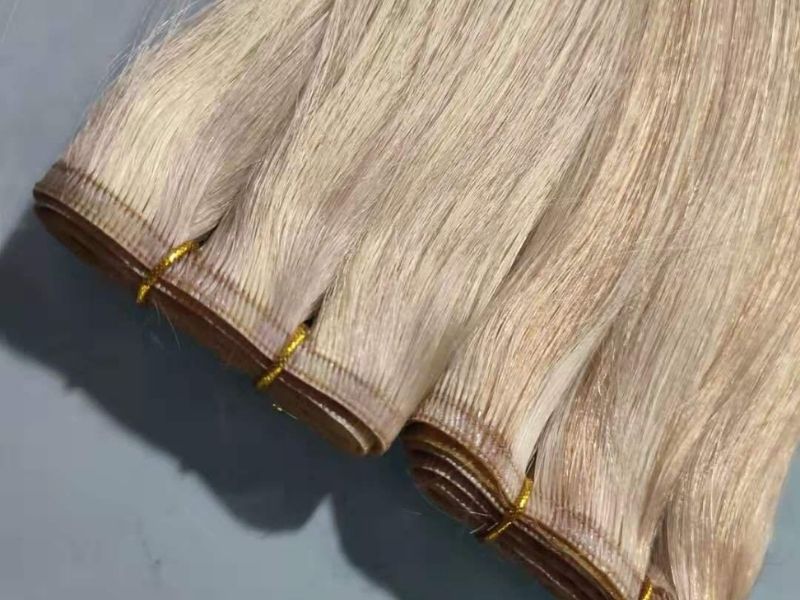 This seamless design allows for easy application and a natural-looking finish. Learn about the various types of weft hair available, including machine weft and hand-tied weft, as well as their unique traits and benefits.
Exploring Apohair's Weft Extensions
A Symphony of Textures and Styles
Apohair is proud to present a weft extensions collection that caters to a multitude of styles and tastes. Whether you're drawn to the sleekness of straight, the whimsy of curly, or the romance of wavy hair, our range ensures there's a texture that resonates with your vision. These extensions offer a canvas for creativity, enabling you to experiment with new looks while upholding the highest standards of quality.
Ethical Sourcing: From Source to Transformation
Each weft extension is born from a meticulous process that starts with the careful sourcing of hair. Our ethical practices ensure that the hair we use is sourced responsibly, respecting the rights and well-being of the individuals involved. From local communities to sustainable sources, our commitment to ethical resources is unwavering, weaving a story of empowerment and respect into each extension.
Quality Craftsmanship that Shines
We understand that the foundation of exceptional extensions lies in the quality of the weft. Our weft hair extensions are meticulously crafted, utilizing premium materials to ensure strength, natural movement, and a seamless integration with your existing hair. This dedication to excellence guarantees you can confidently embrace your hair extensions as an integral part of your daily beauty routine.
Types Of Weft Extensions By Apohair
Apohair takes pleasure in supplying a wide variety of sew-in extensions to meet your specific needs and style choices. Let's have a look at our excellent collection:
Machine Weft 
Machine weft hair extensions, which are manufactured by machine-sewing hair strands together, are convenient and long-lasting. They are ideal for rapid installs and mix in well with your natural hair.
Hand-Tied Weft 
Enjoy the fine craftsmanship of hand-tied weft extensions. These extensions, handcrafted by trained artisans, provide exceptional flexibility, comfort, and an almost invisible finish.
Genius Weft 
By combining a thin, lightweight design with a robust weave base, our unique Genius weave blends the best of both worlds. It provides a comfortable fit, low shedding, and simple blending for a faultless appearance.
Feather Weft 
If you're looking for something a little different, our Feather Weft is the way to go. It gives a whimsical and bright touch to your hair, allowing you to express your individuality, and is made with fine feather strands.
Flat Weft
With our Flat Weft, you can get the ultimate in sleekness and comfort. Its ultra-thin form rests flat on the scalp, giving it a smooth and almost invisible appearance.
Nano Hand-Tied Weft 
With our Nano Hand-Tied Weft, you may experience the most recent breakthrough in weft technology. It is the smallest and most unobtrusive weft available, with outstanding flexibility and ease of application in difficult-to-reach locations.
Silk flat weft
Apohair provides two varieties of silk flat weft to consumers to satisfy their needs. Here are several examples:
Single Layer Silky Flat Weft
Our Single Layer Silky Flat Weft provides a smooth and silky finish. Its single-layer structure is lightweight and provides great volume and length.
Double Layer Silky Flat Weft
Our Double Layer Silky Flat Weft is ideal for individuals looking for greater volume and thickness. Its double-layer construction gives your hair wonderful volume and body.
Benefits of Weft Hair 
When you envision a hairstyle that's voluminous, stunningly long, or exquisitely textured, weft hair holds the key to realizing those dreams. Their versatility allows you to achieve your desired outcome with remarkable ease. Let's delve deeper into the benefits that make weft hair a coveted choice among those seeking to enhance their natural beauty.
Instant Length and Volume
Longing for that flowing mane that turns heads? Weft hair grants you the power to instantly add length and volume to your hair. Whether you're looking to embrace the glamour of extra inches or add a touch of fullness, these extensions deliver a transformative effect that captures attention and elevates your overall appearance.
Read more: A Comprehensive Guide to Human Hair Weft Extensions Length
Customizable Styles
Weft extensions are more than just extensions; they are the building blocks of limitless styles. With these extensions, you're free to experiment with a myriad of looks, from chic updos for special occasions to the casual allure of loose waves for everyday elegance. This versatility ensures that each day becomes an opportunity for self-expression, where your hair becomes the canvas for your creativity.
Application and Removal Processes
Application with Precision
Applying weft hair extensions is a meticulous process that demands precision to achieve flawless results. Allow us to guide you through the essential steps:
Preparation: Begin by sectioning your natural hair, creating a foundation for the extensions to be seamlessly integrated.
Attachment: Use a reliable adhesive or adept sewing technique to securely fasten the weft along the base of the sections.
Blending and Styling: The art of weaving involves expertly combining the weft extensions with your natural hair, ensuring a harmonious blend that seamlessly merges into your look.
Gentle Removal Techniques
As much as the application process matters, the removal process holds equal significance. To ensure the continued health and vitality of your natural hair and the extensions, adopting gentle removal techniques is essential. If you're new to the process or desire an extra layer of care, entrusting a professional with this task is recommended.
Standard vs. Luxury Weft Hair 
Standard Extensions
When it comes to choosing between standard and luxury weft hair, understanding their unique characteristics guides you toward the ideal choice based on your preferences and needs.
– Quality: Standard extensions offer excellent quality that strikes a balance between affordability and a polished look.
– Durability: These extensions are designed to withstand daily wear and tear, maintaining their appeal over time.
– Texture and Color: Available in an array of textures and colors, standard extensions cater to diverse style preferences, ensuring you find your perfect match.
– Ideal For: If you're seeking a harmonious blend of quality and cost-effectiveness, standard extensions are an excellent choice.
Luxury Extensions
Stepping into the realm of luxury weft hair extensions introduces a world of opulence and timeless elegance.
– Quality: Luxury extensions epitomize the pinnacle of quality, crafted from premium materials that radiate sophistication.
– Longevity: Their extended lifespan showcases a commitment to enduring beauty, ensuring that your investment sustains its allure.
– Texture and Color: With an expansive range of textures and colors, luxury extensions excel in color retention and texture authenticity.
– Ideal For: Those who prioritize an investment in premium quality, durability, and the allure of long-lasting elegance find their perfect match in luxury extensions.
Apohair Weft Hair Extensions: Affordable Pricing Options
At Apohair, we believe that high-quality weft hair should be accessible to everyone. We offer a range of options to suit different budgets, ensuring that you can find the perfect match without compromising on quality.
Price Of Standard Hair
Our standard hair extensions are priced between $18 and $22, offering exceptional value for money. These extensions are made from 100% high-quality human hair and can be dyed in dark colors, allowing you to customize your look to suit your preferences.
Price Of Luxury Hair
For those seeking a more luxurious experience, our luxury hair extensions are available at prices ranging from $70 to $80. These extensions are made from the finest human hair and have the added benefit of being bleachable and dyeable with light colors. This versatility opens up a world of possibilities for creative and personalized styling.
Choosing The Right Weft Hair Extensions
When selecting sew-in hair extensions, several factors should be considered to ensure the perfect match and quality. At Apohair, we prioritize your satisfaction, and here are essential tips to guide you:
Hair Quality and Origin
We take pride in using only the finest, ethically sourced human hair for our weft extensions. Choose from our range of high-quality options, including virgin hair and Remy hair, to achieve a seamless blend with your natural hair.
Length, Color, and Texture Matching
Achieving a flawless and natural look requires careful consideration of the extension's length, color, and texture. Consult our experts or use our online color matching and texture guides to find the perfect match for your hair.
Related: Human Hair Weft Extensions Length
Budget Considerations
We understand the importance of finding weft hair extensions that fit your budget. With Apohair, you can trust that our extensions offer exceptional quality at competitive prices. Explore our range of options to find the best fit for your budget.
Conclusion
Apohair's weft hair epitomizes the fusion of art and elegance, offering a transformative experience that celebrates your distinct beauty. With an array of textures, impeccable quality, and customizable styles, these extensions empower you to radiate confidence.
Whether you opt for the excellence of standard extensions or the opulence of luxury extensions, embrace versatility, and immerse yourself in the allure of weft hair extensions from Apohair. Your journey towards enhanced beauty begins here.